This creamy vegetable soup is so delicious, you'll never believe that it's actually really healthy!
Creamy Vegetable Soup
I put a lot of work into this recipe many years ago, before food blogging was even a thing. My kids used to be OBSESSED with their Aunt Heather's "Peter Rabbit Soup." When we moved away from her, my kids would request it all the time, so I called up my sister and asked for the recipe.
It contained an entire BRICK sized block of American cheese and a slew of other ingredients I wasn't comfortable feeding my children for dinner.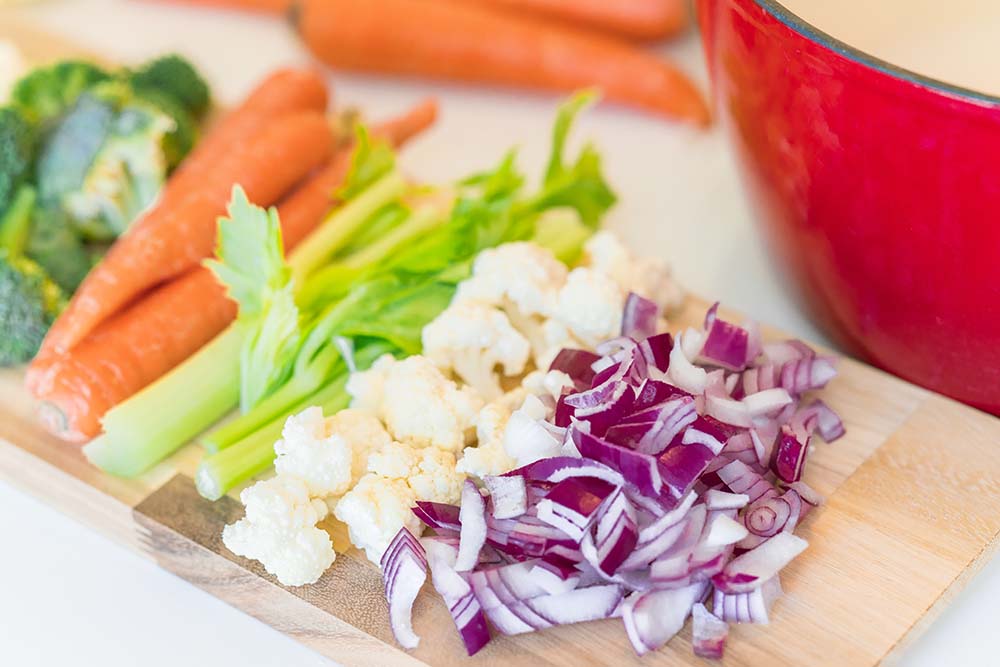 So, I set out to come up with a healthier version of the beloved "Peter Rabbit Soup." And this recipe was born. And guess what!! My kids never noticed the difference. They go absolutely bonkers over this soup and I love that it's chock full of a rainbow of veggies and healthy broth.
We sometimes call this Rainbow Soup because we're always putting a rainbow full of veggies into it! So pretty right? 
I usually make the broth from scratch with the leftover bones from a rotisserie chicken that I've used for our other favorite dinner, Honey Lime Enchiladas.
If you're making your own chicken broth, I LOVE the Soup Sock! You can put your chicken parts, herbs, and vegetables all into the Soup Sock and plop it right into the pot. When it's done, just pull out the soup sock with all its contents and throw it away. No more straining your chicken broth!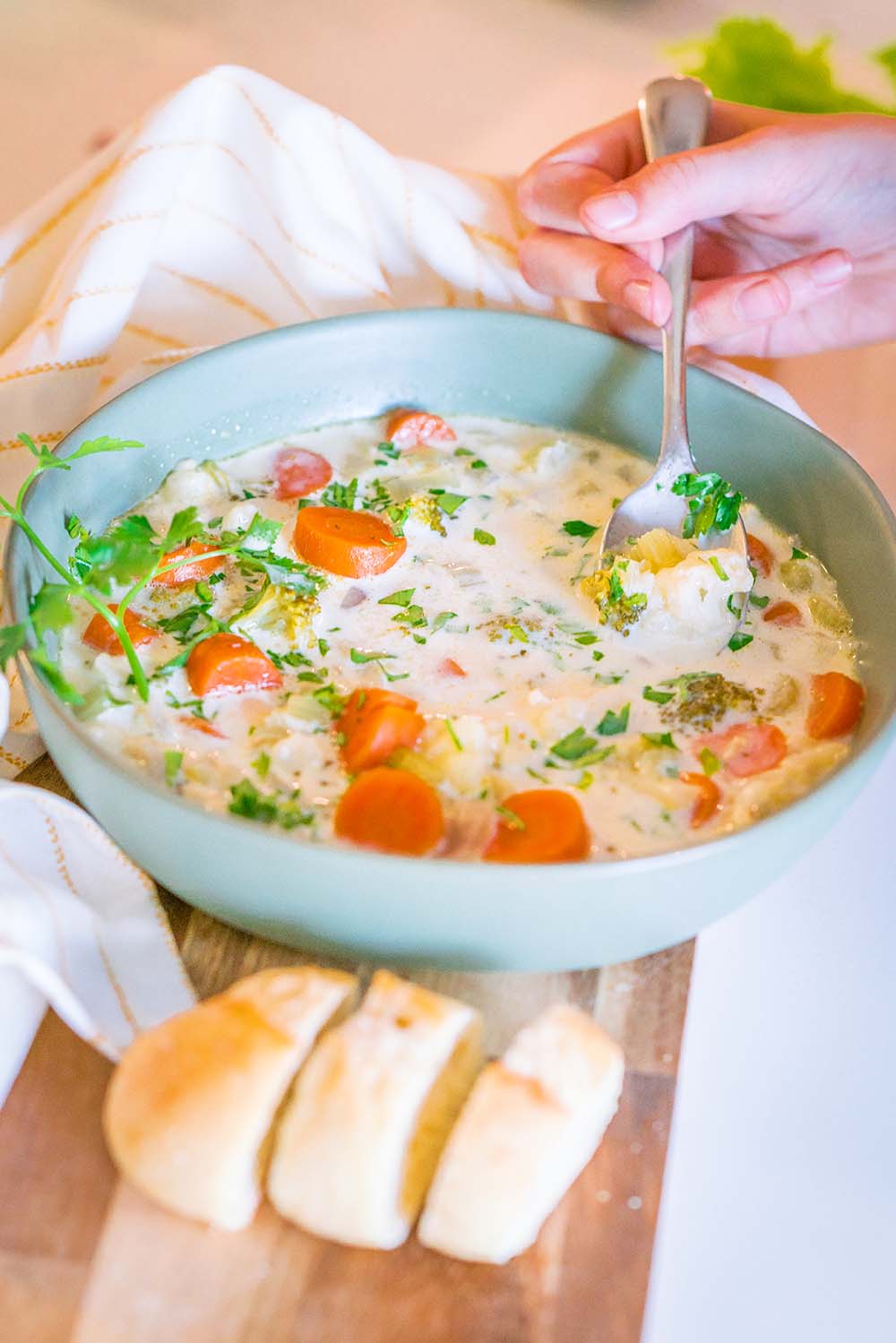 A few things to keep in mind when making Creamy Vegetable Soup
You can mix up the vegetables in this recipe and add whatever you have on hand. Anything tastes good in here.

Do not overcook the vegetables before pouring in the broth. You want firm veggies, not mush!
You can substitute the vegetable broth for chicken broth if you want to make this vegetarian.
You can substitute almond milk for cream at the end.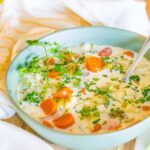 Creamy Vegetable Soup
Ingredients
1/2

Cup

Olive Oil

4

Stalks

Celery

sliced

6

Carrots

sliced

1

Red Onion

chopped

1/2

Head

Cauliflower

chopped

1/2

Head

Broccoli

chopped

6

Cloves

Garlic

diced

1/4

Cup

Flour

6

Cups

Chicken Broth

or Vegetable Broth

3

Bay Leaves

1

Tbsp

Powder Ranch Mix

2

Cups

Cream

or Almond Milk

1/4

Cup

Parsley

chopped
Instructions
Chop all your vegetables. Head a large stock pot on medium and add olive oil. Add all vegetables and sautee for about 10 minutes. Don't overcook! Add in flour and stir until browned. Add in your broth, bay leaves, ranch mix, and boil on low for 20 minutes. Turn off heat and add cream or almond milk. Serve immediately. Garnish with parsley