This healthy homemade granola is full of natural nuts and grains that are tasty and good for you!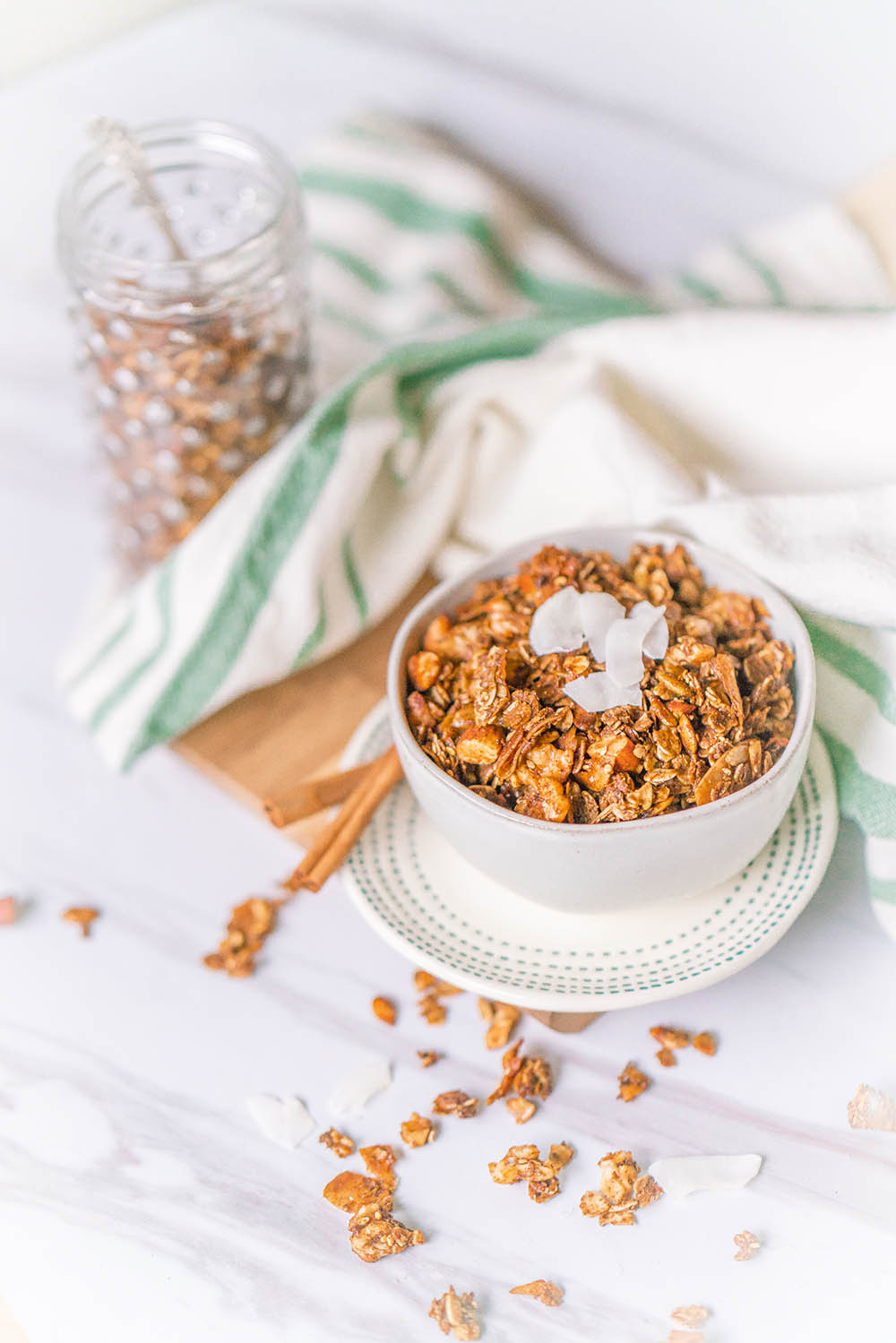 Healthy Homemade Granola
I am a HUGE granola fan! I used to buy my granola, but I didn't love all the random ingredients that were thrown in there. I knew that making my own granola couldn't be too hard, so I've been playing around with this recipe for the last several years. A really big plus is that my kids LOVE this homemade granola and an even bigger plus is that it has NO REFINED SUGAR added! That is something that is so hard to find these days!
This healthy homemade granola is a really forgiving recipe. So if there's something you don't have or don't like, then skip it, replace it, or add in something extra. My granola comes out different every time because I am usually adding whatever nuts I have on hand. If I'm out of almonds, I'll add cashews, etc. Really, anything goes with this recipe as long as you keep the dry to liquid ingredient ratio the same.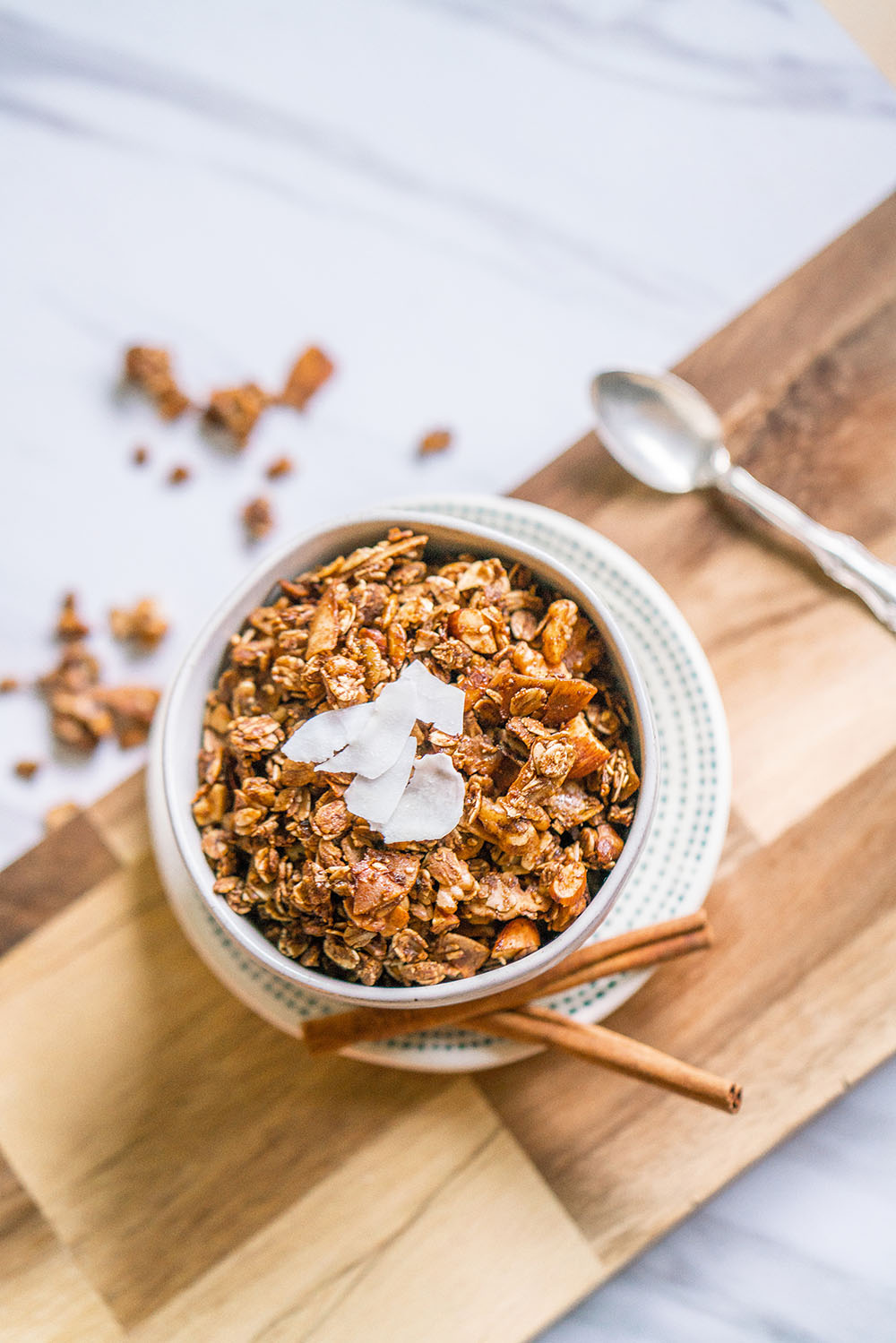 You could even add chocolate chips or fresh coconut flakes to this granola if you wanted to make it more indulgent. I love putting this granola into a parfait with strawberries, blueberries, plain yogurt and a little bit of honey, eating it plain or with some almond milk. You seriously can't go wrong!
Print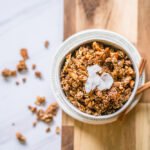 Healthy Homemade Granola
---
Author:

Prep Time:

10 minutes

Cook Time:

1.5 hours

Total Time:

1.75 hours

Yield:

2 gallons

Category:

Breakfast
Description
This healthy homemade granola is quick and simple to make and will last your family for weeks or even months! It saves well and tastes delicious. Full of wholesome and healthy ingredients without ANY processed sugars, it's a staple for any family pantry.
---
Ingredients
Feel free to cut this recipe in half, it makes 2 sheet pans full of healthy granola!
Dry Ingredients
8 cups rolled oats
1 cup wheat germ
1 cup shredded coconut
1/2 cup ground flax seed
1 cup raw pumpkin seeds
1/2 cup raw sunflower seeds
1/4 cup sesame seeds
2-4 cups any nut of your preference (I usually mix nuts. Almonds, Pecans and Walnuts are my favorites)
2 Tblsp cinnamon
Wet Ingredients
1/2 cup honey
1/2 cup real maple syrup (or molasses)
1/2 cup water
1/2 cup coconut oil
2 Tblsp vanilla
---
Instructions
Preheat oven to 200 degrees Fahrenheit. Chop any large nuts into bite-sized pieces. Mix together your dry ingredients in a large mixing bowl. Over low heat, mix liquid ingredients until combined. Do not boil. Pour warm liquid over dry ingredients, stirring as you pour until all oats are covered and liquid is absorbed.
Divide mixture between two large baking sheets. Place them both in the oven on separate racks. Rotate every 30 minutes, removing the pans and stirring the granola each time you rotate. Bake until the healthy granola is a nice golden brown. Do not burn, but don't let it be chewy either. I find that 1.5 hours (or 2 rotations) is perfect, but every oven is different so it's best to keep an eye on it after the first rotation.
After the healthy granola is done baking, remove it from the oven, stir, and let sit until room temperature. Move to an airtight container or gallon bag to store.